About RailTrends®
RailTrends® is a two-day conference for ALL of the rail-industry disciplines and stakeholders. It is attended by the financial and capital communities, owners, lenders, operators, marketers and every other group directly or indirectly affected by the rail business.

RailTrends® conference content is shaped by the internal verities of the industry, timely topics, and controversial, button-pushing subjects.

Unlike other rail conferences that only address a single subject such as railcar leasing, manufacturing, MOW or bond investors, RailTrends® gets you up to speed on all areas of the industry.

What RailTrends® offers that is available nowhere else is a drilling down into some very specific issues - in some cases issues that you may not even know affect you - specific to the industry's future and your livelihood.

Other organizations offer single-topic conferences, but only RailTrends® addresses all aspects of the industry, giving you a broader sense of what is going on.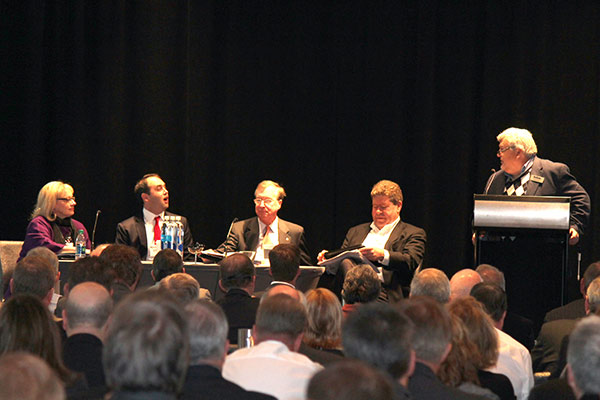 RailTrends® keeps you connected
Below is a small sampling of the high-caliber attendees from RailTrends® 2014:

President and Chief Executive Officer
Alaska Railroad Corporation

President
GLNX Corporation

Senior Associate
Cambridge Systematics

Vice President Corporate Development
Railworks Corporation

President
Anestis & Company LLC

Vice Chairman
Castle Harlan, Inc.

Executive Vice President
RailWorks Corporation

VP Operations
GREX

Manager - Distribution Sales
Evraz Pueblo

and many more!